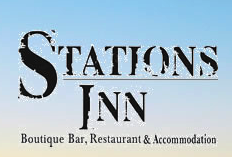 11 Blue Spur Road, Hokitika, Westland District




Dietary - Vegetarian Friendly

European

Outdoor Seating

Beef & Lamb Excellence Award

06:00 PM - 10:00 PM

More times

tue

6:00pm - 10:00pm

wed

6:00pm - 10:00pm

thu

6:00pm - 10:00pm

fri

6:00pm - 10:00pm

sat

6:00pm - 10:00pm
Waterwheel Restaurant
11 Blue Spur Road, Hokitika, Westland District
Info

06:00 PM - 10:00 PM

More times

tue

6:00pm - 10:00pm

wed

6:00pm - 10:00pm

thu

6:00pm - 10:00pm

fri

6:00pm - 10:00pm

sat

6:00pm - 10:00pm

Dietary - Vegetarian Friendly

European

Outdoor Seating

Beef & Lamb Excellence Award

BEEF AND LAMB EXCELLENCE AWARDS - Whenever you see the Excellence Awards logo or prestigious gold plate hanging on a restaurant wall, you can expect tasty, skillfully composed and superbly presented beef and lamb dishes.

Stations Inn Hokitika features an award winning restaurant offering a la carte dining. The award winning New Zealand cuisine is perfectly complemented by a full range of locally brewed Monteith's beer and an excellent selection of quality New Zealand wines.
Make a booking with Waterwheel Restaurant
Sorry, this restaurant does not currently offer online bookings via Restaurant Hub, if you would like to make a booking please call
03-755 5499
Sorry, this restaurant does not currently offer online bookings via Restaurant Hub, if you would like to make a booking please call
03-755 5499
Other interesting restaurants in the area