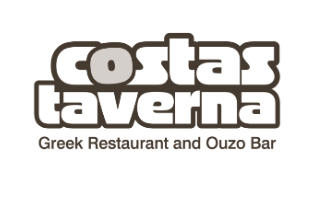 3/478 Cranford St, Redwood, Christchurch City




Greek

Mediterranean

Dietary - Vegetarian Friendly

Dietary - Vegan Friendly

Dietary - Gluten Free Friendly

Wheelchair Accessible

Family Friendly - Kids Menu

Beef & Lamb Excellence Award

05:00 PM - 10:00 PM

More times

mon

5:00pm - 10:00pm

tue

5:00pm - 10:00pm

wed

5:00pm - 10:00pm

thu

5:00pm - 10:00pm

fri

5:00pm - 10:00pm

sat

5:00pm - 10:00pm
Costas Taverna
3/478 Cranford St, Redwood, Christchurch City
Info

05:00 PM - 10:00 PM

More times

mon

5:00pm - 10:00pm

tue

5:00pm - 10:00pm

wed

5:00pm - 10:00pm

thu

5:00pm - 10:00pm

fri

5:00pm - 10:00pm

sat

5:00pm - 10:00pm

Greek

Mediterranean

Dietary - Vegetarian Friendly

Dietary - Vegan Friendly

Dietary - Gluten Free Friendly

Wheelchair Accessible

Family Friendly - Kids Menu

Beef & Lamb Excellence Award

BEEF AND LAMB EXCELLENCE AWARDS Whenever you see the Excellence Awards logo or prestigious gold plate hanging on a restaurant wall, you can expect tasty, skillfully composed and superbly presented beef and lamb dishes.

We use free-range eggs and fresh creams. We use pure Angus beef, raised on the pastoral perfect Canterbury plains, naturally marbled and aged no less than 21 days.

Master chefs cook our family recipes from scratch. Preparations begin early in the morning and continue throughout service. This attention to detail ensures flavour consistency with every dish. Not a single meal goes through to a guest without first being checked and approved by the head chef himself. We discard any meal that does not meet our highest standard.

Dine elsewhere and you may get a nice meal. Dine at Costas Taverna and you are guaranteed a legendary meal with the passion of a hundred years.
Make a booking with Costas Taverna
Sorry, this restaurant does not currently offer online bookings via Restaurant Hub, if you would like to make a booking please call
03-352 3232
Sorry, this restaurant does not currently offer online bookings via Restaurant Hub, if you would like to make a booking please call
03-352 3232
Other interesting restaurants in the area