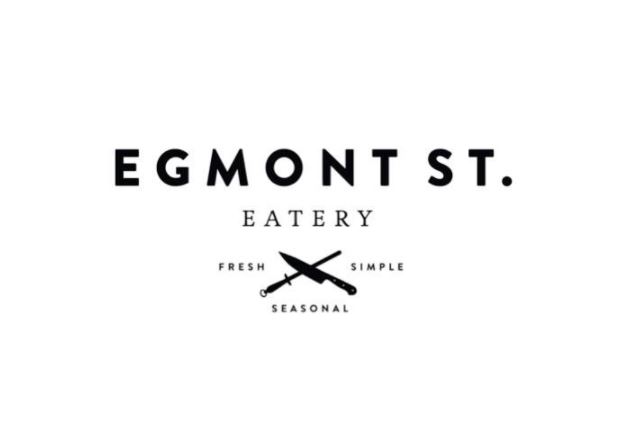 11 Egmont Street




Wellington Central, Wellington




Sharing Platters

7:00am - 11:00pm

More times

mon

7:00am - 3:00pm

tue

7:00am - 11:00pm

wed

7:00am - 11:00pm

fri

7:00am - 11:00pm

sat

7:00am - 11:00pm,


7:00am - 3:00pm
Egmont Street Eatery
11 Egmont Street




Wellington Central, Wellington
Info

7:00am - 11:00pm

More times

mon

7:00am - 3:00pm

tue

7:00am - 11:00pm

wed

7:00am - 11:00pm

fri

7:00am - 11:00pm

sat

7:00am - 11:00pm,


7:00am - 3:00pm

Sharing Platters

Egmont St. Eatery is a hidden gem tucked away in one of Wellington's vibrant laneways. What used to be an old industrial carpark has been transformed into a modern, multi-level, light-filled eatery.

Our food reflects the season, with a focus on quality products and bold flavours. Dinner features impressive large shared plates served banquet-style with salads, sides and small plates as accompaniments. Lunch service is more casual with an interesting selection of salads, sandwiches and individual meals. We also have a very popular breakfast and brunch offering, and a beautiful selection of baked goods and sweet treats in our cabinet to top it off.

The food is complimented by quality caffeine, a selection of bespoke cocktails, wines and craft beer, and always service with a smile.

We are open for breakfast and lunch 7 days, and for dinner 5 nights a week.

Reviews

Professional Reviews:

Egmont Street Eatery

Average Professional Review Score

1 reviews

Restaurant review: Eclectic offerings at Egmont Street Eatery

2 November 2017

For years The Spiaggia Cookbook has lain on my kitchen bookshelf, its recipes for lobster, truffles and osetra caviar more aspired to than used.

So having learned that this legendary Chicago restaurant once employed the Egmont Street Eatery's new chef Rob Essenburg, I was inspired to see what he could bring to Wellington.

As you might hope, there are American threads running through Essenburg's highly eclectic menu: loaded fries and Cajun-Creole dirty rice, for example, plus Parker House rolls.

continue reading

Awards

2018 Cuisine Top 100 received @

9 September 2018

This restaurant is in the Cuisine Good Food Awards Top 100 for 2018 is featured in the Cuisine Good Food Guide 2018. The Top 100 restaurants formed the finalists for the Cuisine Good Food Awards 2018, The Winners are to be announced on the 15th of October.
Make a booking with Egmont Street Eatery
Sorry, this restaurant does not currently offer online bookings via Restaurant Hub, if you would like to make a booking please call
Call
Sorry, this restaurant does not currently offer online bookings via Restaurant Hub, if you would like to make a booking please call
Call
People who booked this restaurant also booked