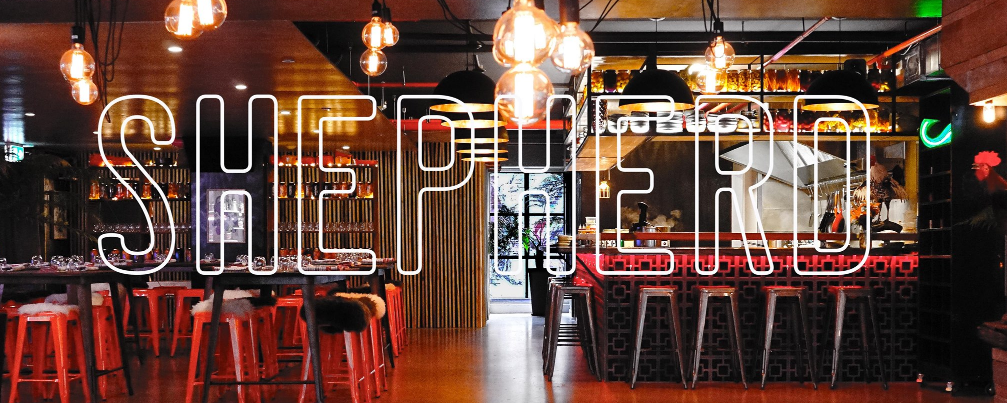 1/5 Eva Street




Te Aro, Wellington




Dietary - Vegetarian Friendly

5:30pm - 11:00pm

More times

wed

5:30pm - 10:30pm,


11:00pm - 10:30pm

thu

5:30pm - 10:00pm

fri

5:30pm - 11:00pm

sat

5:30pm - 11:00pm

sun

5:30pm - 11:00pm
Shepherd
1/5 Eva Street




Te Aro, Wellington
Info

5:30pm - 11:00pm

More times

wed

5:30pm - 10:30pm,


11:00pm - 10:30pm

thu

5:30pm - 10:00pm

fri

5:30pm - 11:00pm

sat

5:30pm - 11:00pm

sun

5:30pm - 11:00pm

Dietary - Vegetarian Friendly

New Zealand has some of the highest quality produce and livestock in the world. Our suppliers are the very best on offer and we work closely with all of them provide our chefs with the freshest most ethical ingredients. Exceptional and fun dining matched with a thoughtful and focused beverage selection will be an outstanding experience for any lover of great eating.

Guests can sit at smaller tables by the expansive front windows, beneath the glow of pendant light bulbs, or on high stools around the open kitchen, being served delicious Kiwi cuisine designed to share. Larger tables populate the rest of the space, which also has a dinky room full of edible plants.

Menu Reviews

Trip Advisor Reviews:

Shepherd

Awards

2018 Cuisine Top 100 received @

9 September 2018

This restaurant is in the Cuisine Good Food Awards Top 100 for 2018 and will be featured in the Cuisine Good Food Guide 2018. The Top 100 restaurants are also the finalists for the Cuisine Good Food Awards 2018, and the Winners will be announced on the 15th of October.

2018 Cuisine - 1 Hat received @

15 October 2018

The hat awards are the most prestigious awards that Cuisine offer.
People who booked this restaurant also booked