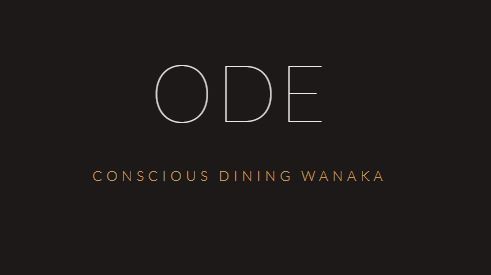 33 Ardmore Street




Wanaka, Wanaka




Healthy

6:00pm - 10:00pm

More times

tue

6:00pm - 10:00pm

wed

6:00pm - 10:00pm

thu

6:00pm - 10:00pm

fri

6:00pm - 10:00pm

sat

6:00pm - 10:00pm
Ode Conscious Dining Wanaka
33 Ardmore Street




Wanaka, Wanaka
Info

6:00pm - 10:00pm

More times

tue

6:00pm - 10:00pm

wed

6:00pm - 10:00pm

thu

6:00pm - 10:00pm

fri

6:00pm - 10:00pm

sat

6:00pm - 10:00pm

Healthy

Food keeps us alive, but good food makes us feel alive. In our kitchen "good food" means food that excites all the senses & food that is delicious.

We believe that good food starts with respecting the integrity of the ingredients - Ingredients that have been produced with attention, consideration & purity.

For us, "good food" means sourcing organic, ethical, sustainable, seasonal ingredients & supporting local's who are doing good things.

Our food is innovative & progressive and like nature, ever evolving. Ode is a place for you to experience your environment through food. Food is our art form and each plate is an ode - to the earth, to family, to the present, the future & all that has lead us to this point. Ode is here to be enjoyed together in a place we are stoked to share with you.

PASSION LED BY PURPOSE.

Ode was created as a space for us to connect with and live our truths, to collaborate, to grow and generate change. We care about and respect our environment and our communities and are conscious of the impact our choices have on them and their long-term wellbeing.

Ode - it's good

Menu Awards

2018 Cuisine Top 100 received @

9 September 2018

This restaurant is in the Cuisine Good Food Awards Top 100 for 2018 is featured in the Cuisine Good Food Guide 2018. The Top 100 restaurants formed the finalists for the Cuisine Good Food Awards 2018, The Winners are to be announced on the 15th of October.
Make a booking with Ode Conscious Dining Wanaka
Sorry, this restaurant does not currently offer online bookings via Restaurant Hub, if you would like to make a booking please call
Call
Sorry, this restaurant does not currently offer online bookings via Restaurant Hub, if you would like to make a booking please call
Call
People who booked this restaurant also booked