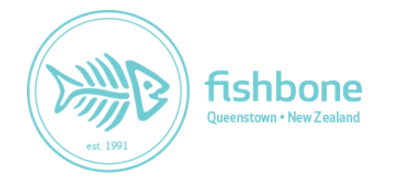 7 Beach Street




Queenstown, Queenstown




BBQ/Grill

Dietary - Vegetarian Friendly

5:00pm - 10:00pm

More times

mon

5:00pm - 10:00pm

tue

5:00pm - 10:00pm

wed

5:00pm - 10:00pm

thu

5:00pm - 10:00pm

fri

5:00pm - 10:00pm

sat

5:00pm - 10:00pm

sun

5:00pm - 10:00pm
Fishbone
7 Beach Street




Queenstown, Queenstown
Info

5:00pm - 10:00pm

More times

mon

5:00pm - 10:00pm

tue

5:00pm - 10:00pm

wed

5:00pm - 10:00pm

thu

5:00pm - 10:00pm

fri

5:00pm - 10:00pm

sat

5:00pm - 10:00pm

sun

5:00pm - 10:00pm

BBQ/Grill

Dietary - Vegetarian Friendly

Fishbone is a lively joint in Queenstown where the interior decor - in summer you can sit on the pavement too - is as sparingly fresh as the celebrated South Island seafood we serve. For a restaurant that's been doing it for twenty-five years, that says something for chef-owner Darren Lovell's energy and commitment to the cause. The fish comes fresh off the boats, from ports around the South Island, the vegetables are locally grown, some at Fishbone's kitchen garden (lovingly called Fishbone Farm), and the cooking just lets them sing. The food is modern New Zealand seafood, seasonally driven and ranges from the simplicity of a whole baked flounder - the local's favourite - to more inventive preparations - Blue Cod with smoked eel & roasted blue cod cream. There is shellfish aplenty, the fish and chips are superlative and the wine list, all hand-picked by business partner Mark Godden, showcases the best of New Zealand and Central Otago. Fishbone earned One Hat at the Cuisine Magazine 2016 Good Food Awards and this year the same publication named Fishbone one of New Zealand's Top 100 restaurants.

Menu Reviews

Trip Advisor Reviews:

Fishbone

Awards

2018 Cuisine Top 100 received @

9 September 2018

This restaurant is in the Cuisine Good Food Awards Top 100 for 2018 and will be featured in the Cuisine Good Food Guide 2018. The Top 100 restaurants are also the finalists for the Cuisine Good Food Awards 2018, and the Winners will be announced on the 15th of October.
People who booked this restaurant also booked