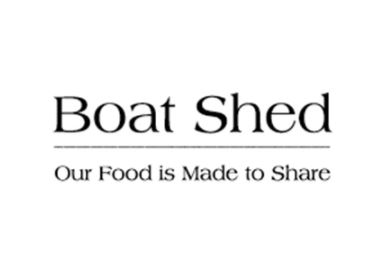 33 Toru Street




Mapua, Mapua




Family

Sharing Platters

Ocean Views

New Opening

10:30am - 10:30pm

More times

wed

10:30am - 10:30pm

thu

10:30am - 10:30pm

fri

10:30am - 10:30pm

sat

10:30am - 10:30pm

sun

10:30am - 4:00pm
Boat Shed - Mapua
33 Toru Street




Mapua, Mapua
Info

10:30am - 10:30pm

More times

wed

10:30am - 10:30pm

thu

10:30am - 10:30pm

fri

10:30am - 10:30pm

sat

10:30am - 10:30pm

sun

10:30am - 4:00pm

Family

Sharing Platters

Ocean Views

New Opening

The Boat shed Cafe has been offering fresh and simple food since its inception in 2009.

Functions

For a private dining space for family gatherings or corporate groups, we have a number of options. Our 'Seaside Room' (pictured above) and our upstairs loft are perfect for groups of 8 to 12 people. For 20 to 24 people, the deck over the water may be available (it is covered and heated) – for 30 to 40, we can offer the main restaurant area and with the deck included a wedding group or staff function of up to 50 can be accommodated. We will work with you to put together a 'Trust the Chef' menu selection or limited choice menu to meet your budget, and we can cater for any special dietary needs within that (we just need to know beforehand). Wines and other drinks can also be selected and listed on the function menu or your group can choose from our full wine list at the time.

Open for Private Functions Only. Open 7 days from 1 December

To find us, turn off Aranui Road onto Toru Street, keep going across the causeway and right through the Mapua Leisure Park (slowly please!). Plenty of parking close to the cafe.



Make a booking with Boat Shed - Mapua
Sorry, this restaurant does not currently offer online bookings via Restaurant Hub, if you would like to make a booking please call
Call
Sorry, this restaurant does not currently offer online bookings via Restaurant Hub, if you would like to make a booking please call
Call
People who booked this restaurant also booked