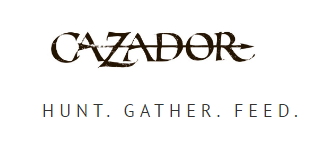 854 Dominion Road




Mount Eden, Auckland




Sharing Platters

Wild Game

5:00pm - 10:00pm

More times

tue

5:00pm - 10:00pm

wed

5:00pm - 10:00pm

thu

5:00pm - 10:00pm

fri

5:00pm - 10:00pm

sat

5:00pm - 10:00pm
Cazador
854 Dominion Road




Mount Eden, Auckland
Info

5:00pm - 10:00pm

More times

tue

5:00pm - 10:00pm

wed

5:00pm - 10:00pm

thu

5:00pm - 10:00pm

fri

5:00pm - 10:00pm

sat

5:00pm - 10:00pm

Sharing Platters

Wild Game

854 Dominion Road Auckland | 096208730

Open Tuesday - Saturday from 5pm.

Cazador is a family owned and operated restaurant specialising in wild food. Our Game meats and fresh ingredients are sourced from New Zealand hunters and producers, and our short, seasonal menu changes often to reflect supply.

We serve New Zealand craft beers, local and international wines, aperitifs and our favourite tipple of all, Sherry.

Our atmosphere is casual, our menu is unique and our decor is one-of-a-kind.

Try something different.

Menu Reviews

Professional Reviews:

Cazador

Average Professional Review Score

3 reviews

A lesson in longevity: Two of Auckland's favourite restaurants reach a milestone

27 October 2017

Happy birthday Cazador!

Cazador celebrates 30 years as a family-owned business next month. The restaurant was passed down from executive chef Dariush Lolaiy's parents Barbara and Tony to Lolaiy and his wife Rebecca Smidt (pictured above) in 2012. A locally sourced, game-centric menu has been heavily refined over the years, seeing Lolaiy crowned Metro's Chef of the Year for 2017, and the restaurant winning Best Neighbourhood Bistro, too.

November is going to be a month-long celebration, so mark these sweet events in your diary:

A revised menu features throwbacks to early 1990s dining, with classic Cazador dishes such as jaghor baghor (fried liver, kidney and heart with tomato and coriander sauce); venison with whisky cream sauce; and Barbara's baklava with cardamom ice cream.

continue reading

Restaurant review: Cazador, Mt Eden

21 May 2017

In Stewart Island last month, I chatted to a bloke who was in the process of shouldering a pack and a very large, rather handsome rifle. He and a mate were heading into the bush for a week.

The conversation would not have been remarkable except that bad weather was expected (I don't think he knows what weather is) and he said he would be hunting deer and he didn't like venison.

"It's all right if you stew it, I suppose," he said, as if talking about survival rations. I can assume only that he enjoyed sitting in the rain. Or shooting things.

continue reading

Review: Cazador, Mt Eden

2 April 2014

Let's say you've wandered in off the street, without knowing anything about Cazador restaurant. First, you might register a small, or large, amount of shock when you see what's on the walls for decoration. Taxidermy. Lots of it. Deer, ducks and flaxen-haired goats.

But then you'll notice a bunch of niceties; young fresh-faced co-owner Rebecca Smidt will greet you with a grin, posies of fresh flowers bounce out of old-fashioned vases and jars on the tables, a sign at the doorway to the private dining room proclaims cheerfully "for feasts & functions" and if you happen to spy head chef and co-owner Dariush Lolaiy in the kitchen you'll find him more handsome than gruesome - that's for sure.

It will begin to dawn on you that this restaurant, dedicated to serving game and wild food, is one of a kind, in a good way.

If this is a repeat visit, you'll probably notice Cazador has had a modest but clever re-fit. They've kept all the best features - the 70s white plaster roughcast walls, the small bar area, the street-front windows and, of course, the proudly displayed conquests from successful hunting expeditions - but velvet banquette seating, new dark flooring, Persian-inspired wallpaper and other small changes have transformed and freshened the space.

continue reading

Trip Advisor Reviews:

Cazador

Awards

2017 Metro Top 50 received @

4 April 2017

The Top 50 Auckland restaurants named by Metro Peugeot Restaurant of The Year 2017

2018 Metro top 50 Awards received @

6 April 2018

Metro Top 50 Finalist for 2018

2018 Cuisine Top 100 received @

9 September 2018

This restaurant is in the Cuisine Good Food Awards Top 100 for 2018 and will be featured in the Cuisine Good Food Guide 2018. The Top 100 restaurants are also the finalists for the Cuisine Good Food Awards 2018, and the Winners will be announced on the 15th of October.
People who booked this restaurant also booked