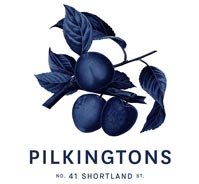 41 Shortland Street




Auckland Central, Auckland




European

RANZ Vouchers

Restaurant Month

Wheelchair Accessible

Outdoor Seating

Offers Early Bird Deals

Beef & Lamb Excellence Award

8:00am - 10:00pm

More times

mon

8:00am - 10:00pm

tue

8:00am - 10:00pm

wed

8:00am - 10:00pm

thu

8:00am - 10:00pm

fri

8:00am - 10:00pm

sat

12:00pm - 10:00pm
Pilkingtons
41 Shortland Street
Auckland Central, Auckland
Info

8:00am - 10:00pm

More times

mon

8:00am - 10:00pm

tue

8:00am - 10:00pm

wed

8:00am - 10:00pm

thu

8:00am - 10:00pm

fri

8:00am - 10:00pm

sat

12:00pm - 10:00pm

European

RANZ Vouchers

Restaurant Month

Wheelchair Accessible

Outdoor Seating

Offers Early Bird Deals

Beef & Lamb Excellence Award

BEEF AND LAMB EXCELLENCE AWARDS Whenever you see the Excellence Awards logo or prestigious gold plate hanging on a restaurant wall, you can expect tasty, skillfully composed and superbly presented beef and lamb dishes.

Pilkingtons Bar, Terrace and Kitchen is an orangery bursting with vibrant colour and texture.

We are proud to have been awarded a place in Metro's Top 50 Restaurants 2015, and to be national finalists in the Hospitality NZ Awards for Best Beverage List, Best Dish Over $25 and Best New/Redeveloped Bar or Restaurant.

Hand-tooled joinery pieces sit alongside bespoke fabrics, natural stones and an abundance of greenery creating a sophisticated atmosphere of celebration. We offer modern upmarket European bistro style cuisine at an affordable price with an exquisite range of New Zealand and International Beverages.

A unique garden oasis in Auckland City, Pilkingtons is relaxing, inviting and an all-day venue suitable for after work socialising, corporate functions, cocktail parties, casual lunches, breakfast meetings and celebrations large and small.

Menu Reviews

Professional Reviews:

Pilkingtons

Average Professional Review Score

2 reviews

Viva Review - March 25, 2015

25 March 2015

Pretty as the English countryside. That's how Pilkingtons strikes me when I walk in off Shortland St. It's billed as a "bar, terrace, kitchen", and the design includes an abundance of colourful floral furnishings, greenery and a swathe of dangling blown glass pendant bulbs — which is fitting given that this was once the site occupied by British glass manufacturers and merchants, Pilkington Glass.

One dining area spills into another and I welcome the change from the minimalist Danish-led design that has recently been such a strong influence.

We settle for a seat on the terrace since the afternoon sun is still managing to stream warmth through the towering office blocks. It won't be long before the season dictates they fire up the outdoor heating system and we'll be shrugging their offered blankets around our shoulders.

continue reading

NZ Herald Review - March 8, 2015

8 March 2015

I never read the reviews on those dining-out sites. The opinion of a random, usually anonymous, stranger just doesn't cut it for me. As my Mum used to say of lots of things, you don't know where it's been.

But what does annoy me is that the websites' basic information is so unreliable. At the time of writing, Zomato, the new arrival on a crowded block, had a list of "Dine-Out Restaurants in Auckland": the first was dessert-only Milse; the second was Sawadee, which is surely the worst Thai restaurant in the country; and spot six went to a burger place in a food court.

Zomato had only one remark to make about Pilkingtons' menu - that it serves barbecue chicken. It does not. And they call this the information age.

continue reading

Trip Advisor Reviews:

Pilkingtons

Awards

Beef and Lamb Excellence Award received @

13 September 2018

The restaurants who currently hold the 2018 Excellence Award have not been compared with each other in the assessment process. Rather, they have been judged on their individual merits and style of cuisine. So, whenever you see the prestigious gold plate hanging on a restaurant wall, you can expect tasty, skillfully composed and superbly presented beef and lamb dishes. So take the guess work out of deciding where to dine and check out our restaurant directory to visit a restaurant near you serving exceptionally well executed and delicious beef and lamb dishes.
People who booked this restaurant also booked