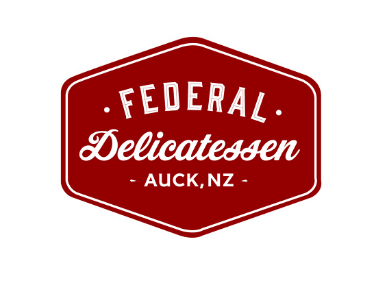 86 Federal Street




Auckland Central, Auckland




American

Dietary - Vegetarian Friendly
Federal Delicatessen
86 Federal Street




Auckland Central, Auckland
Info

American

Dietary - Vegetarian Friendly

Welcome to 'The Fed'! Al Brown's take on an old-school NYC Jewish delicatessen.

Open early and closed late, drop in and sample deli life at its most authentic. Mull a while over a bottomless cup of Joe or a delicious cocktail and sample some of the classic New York Deli dishes. Fill your kishka - tablecloths are pointless as eating 'Deli' is a meal of spills.

Remember to keep your fork – there's pie.

Reviews

Professional Reviews:

Federal Delicatessen

Average Professional Review Score

1 reviews

Brunch review: Fed Deli, Auckland CBD

18 April 2018

Adjacent to the Sky Tower, the Fed Deli is right in the heart of Auckland's CBD. A small selection of wooden tables outside offer perfect viewing of those mad enough to jump from the top of the Southern Hemisphere's tallest tower. Inside, there's a deep row of booths, small tables, high tables or a counter seat, catering for solo diners up to groups of four, or six at a real squeeze. The fit-out is cosy in a way that is familiar while being technically foreign — the food and the vibe of the place is based on what you'd find on offer at a New York diner. Next door is sister store Depot, also owned by celebrity chef Al Brown — the two are so close they share a set of toilets.

continue reading

Awards

2017 Metro Top 50 received @

4 April 2017

The Top 50 Auckland restaurants named by Metro Peugeot Restaurant of The Year 2017

2018 Metro top 50 Awards received @

6 April 2018

Metro Top 50 Finalist for 2018

2018 Cuisine Top 100 received @

9 September 2018

This restaurant is in the Cuisine Good Food Awards Top 100 for 2018 is featured in the Cuisine Good Food Guide 2018. The Top 100 restaurants formed the finalists for the Cuisine Good Food Awards 2018, The Winners are to be announced on the 15th of October.
Make a booking with Federal Delicatessen
Sorry, this restaurant does not currently offer online bookings via Restaurant Hub, if you would like to make a booking please call
Call
Sorry, this restaurant does not currently offer online bookings via Restaurant Hub, if you would like to make a booking please call
Call
People who booked this restaurant also booked